Apart from the very brief time that we had to stay sober enough to drive a car, our Vegas vacation consisted of a steady stream of grub, light beer and Seagrams 7 interspersed with a regular passing of mid-denomination bills to roulette wheel operators, only to never see them again. No one wants an extensive review of how Red 23 came up every fucking time we didn't put money on it, or how our 'strategy' rapidly deteriorated into asking people what date their birthday was. So we'll stick to what we consumed instead.
STRIPBURGER
In dire need of Vitamin D and actual real-life air we took a slightly misguided wander outside in the middle of the day to the Fashion Show Mall, the Strip's shopping centre, mostly for the shade but also to check out Stripburger.

With a circular bar surrounded by a tarp-roofed 'patio', Stripburger seems to be going for a by-the-pool vibe – sitting on the terrace as mist spray lightly attempts to dance over you from above – except instead of a pool you are overlooking the traffic on the Strip if you're lucky and an abandoned shop unit if not. Grab a couple of huge alcohol-heavy cocktails though and the view quickly becomes less of an issue.
Still gut-crowded from breakfast we opted for the mini burger sampler, a selection of their best sellers, to get a taster three little version of their full size offerings. The cheddar burger is as simple as it is good - a thick splodge of nicely-rubbery American cheddar sits on a soft, well-seasoned patty with a great meaty spank and a thin fleck of pink. The butter bun is dreamily soft, spongey and sturdy, housing small chopped up shards of tomato, lettuce and red onion providing a juicy crunch. A thin slice of pickle drops in the sweet-sharp, while the mayo spread on the bottom bun adds moisture and a mild creamy tang. It is textbook. It is lovely.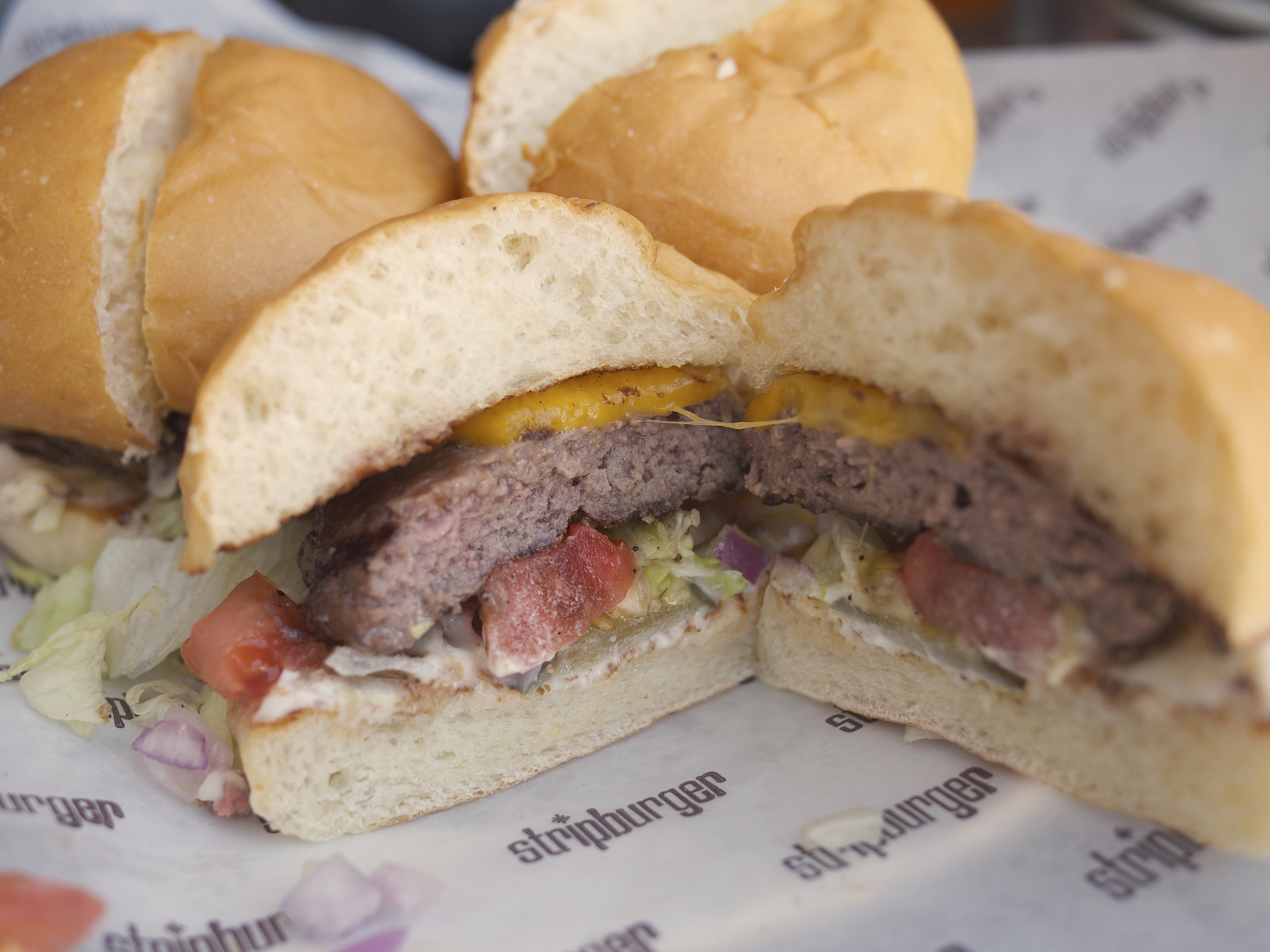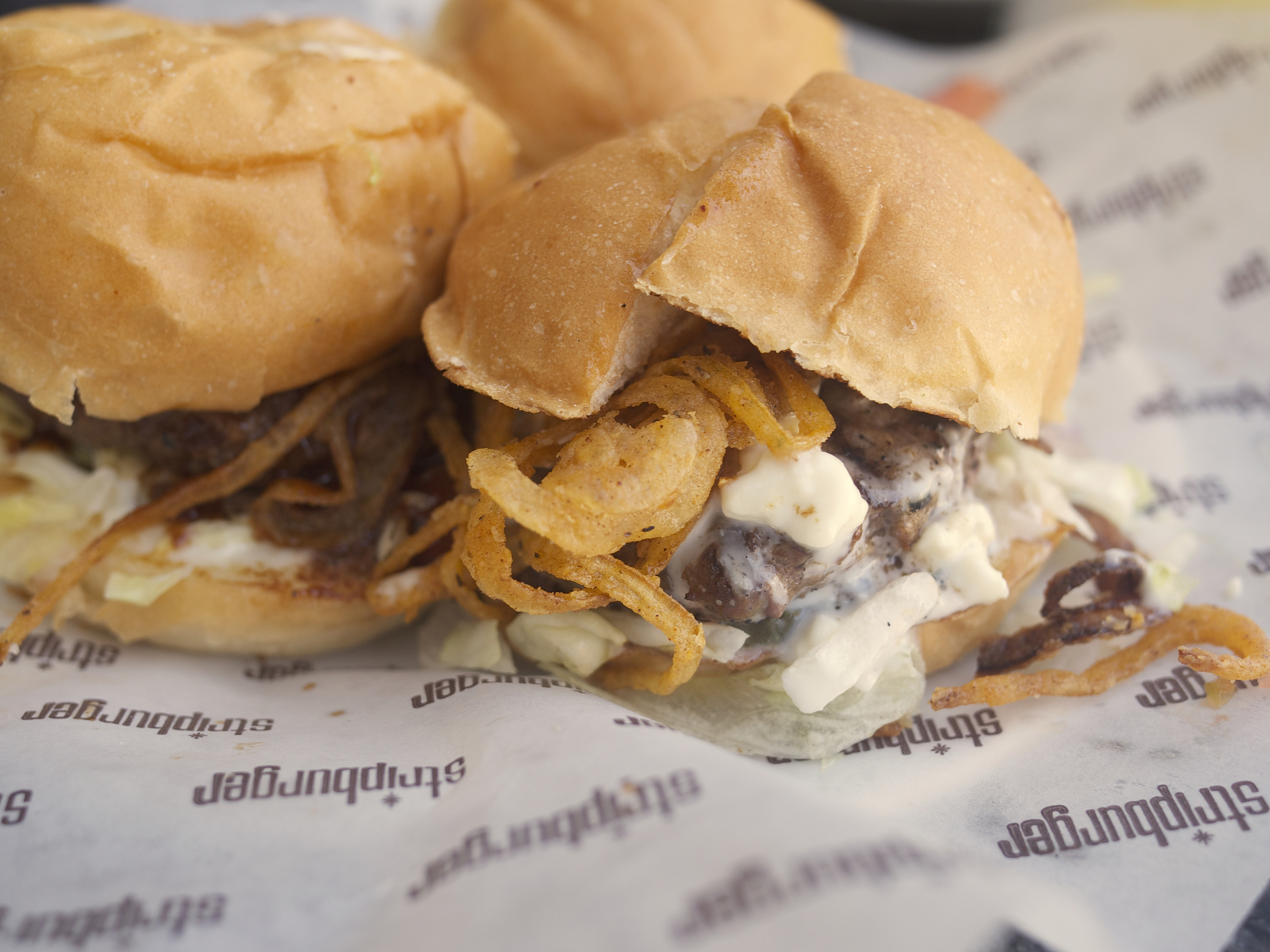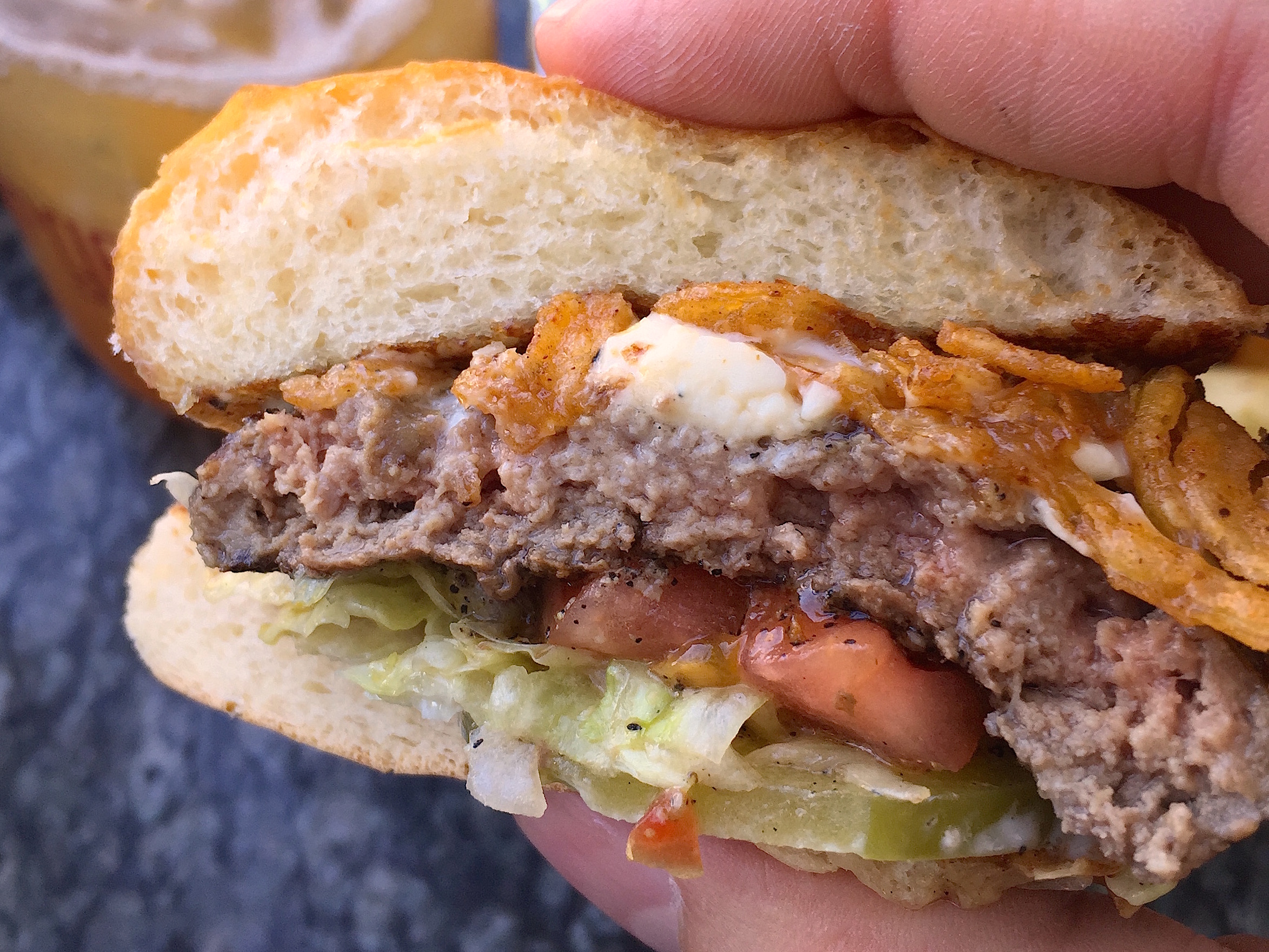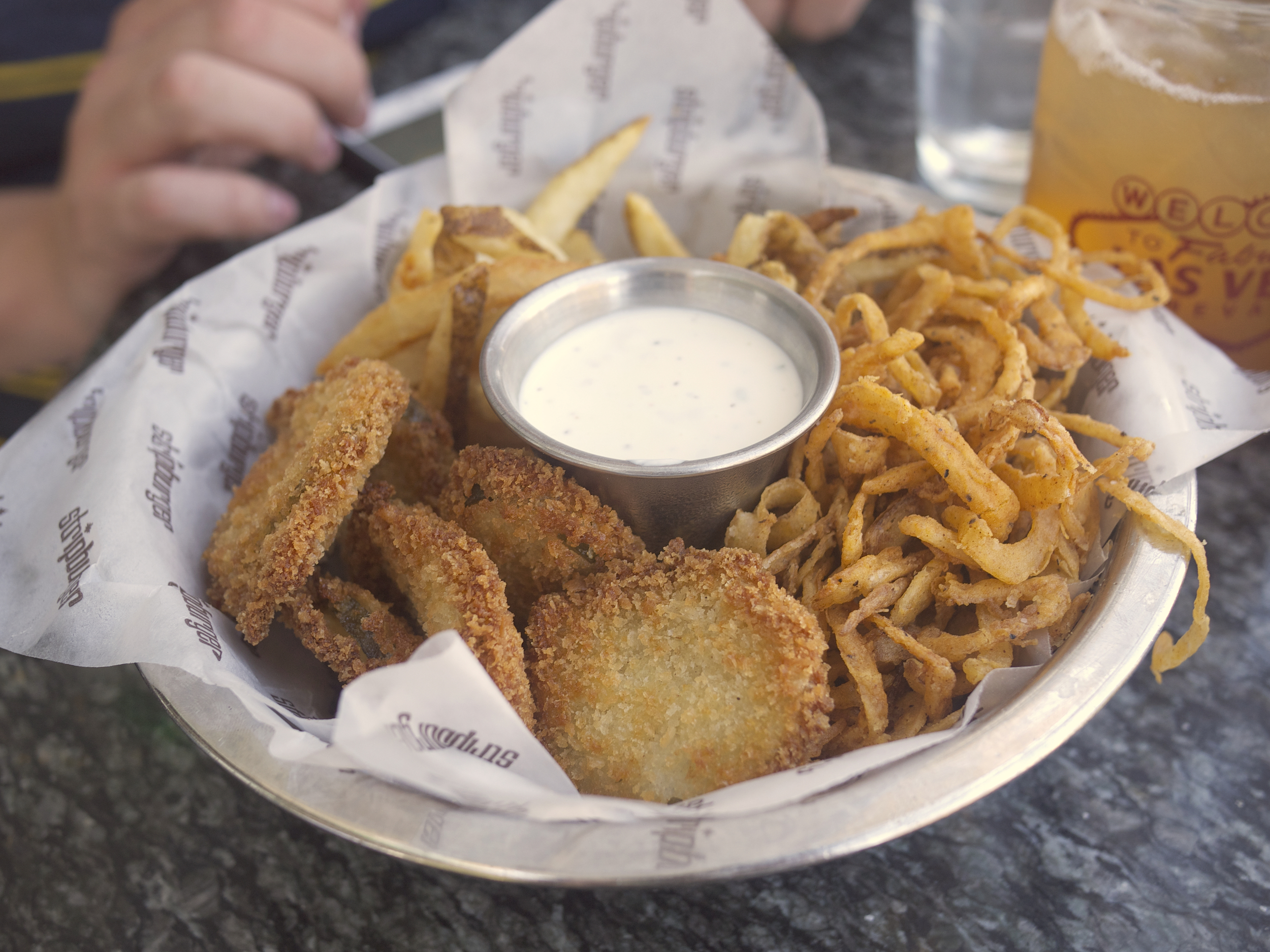 The Whiskey BBQ burger throws a remarkably subtle Jack Daniels infused barbecue sauce which impacts the tongue with a boozy warm heat and sweet twist without being overpowering in either, and the fried onions strings are thin, perfectly-seasoned-and-battered savoury crunch fragments making each bite that more interesting. But the winner was the 'famous' blue cheese pieces which, with the onion strings, had an impossbily cream-cheesy with a dollop of blue sourness flavour that laid a smoothness across the burger. Obviously being Lilyputian in size we weren't getting the true 'adult' experience, but these were great well-proportioned numbers.
Shout out to the fries, onion strings and pickles fries combo -The onions were more of the same from the burgers but the pickles were great crusty, smoothly sharp breadcrumbs discs, and the fries were moreish as hell.
WHITE CASTLE
Did we pick our hotel due to its proximity to White Castle? We did. The knowledge such a noshery was a short stagger across the road for sustenance after a long night of Miller Lights. Built in to the $1 Michelob Light serving Casino Royale, the little castle façade looks adorable dwarfed by the Walgreens and Denny's next door, perfectly placed on a little stretch of pavement perma-rammed due to the cheap beers and frozen margs.
Considering the amount of business this Castle must get, the production line is honed to a majestic slickness: Two massive steel grills work in perfect staggered timing - one heats onions while the other steams the patties on top. The wait time is super short.
What can we say that we haven't said before? The petite, pillowy bun moist from the intensely savoury assimilations of the percolated meat and onion juices - it is an actual-proper slider, joyously flavourfully chewy fun in all three of its bites. We went several times. We wished we had gone more.
SHAKE SHACK
So you all know that the Shack like to have a local nod to new locations, often with a concrete or sausage to localise things a bit. In Vegas, it's concrete. It wasn't very good compared to the Paul A. Young masterpiece we have in London. Chewy bits of stale deep fried waffle batter sit atop a sickly red puke sauce. Gross. Onward.
As timing goes, arriving the day that the originators of the buffalo wing opened in the Venetian is spot-the-fuck-on. We will always make a detour where wings are involved, and a slot machine is never far away.
Anchor Bar have camped out in the Food Court of the grandiously named Grand Canal Shoppes, where you can take a ride in a gondola more ornate than you actually get in Venice. Proper ridiculous. We ordered a mild portion of the classic buffalo wings and they did not disappoint - the skin was perfectly crisped whilst the meat was moist and juicy inside, and they were covering with a decent sloshing of the most perfectly piquant, buttery-sweet, hot bufflo sauce. And even at mild, it still brought on an ample amount of under-eye sweat. Classic, archetypal, very good indeed.
The oh-so-hip Cosmopolitan isn't really our bag: It is all glassy and angular, shiny surfaces with extravagant light fixtures, like a giant fancy bathroom - but then we aren't the modish spray-on slacks crowd they are shooting for.
But within it, down a hallway lined with framed vinyl album covers, lives Secret Pizza - a small (by Vegas standards) New York-style pizzeria. They do by-the-slice or whole pies of just-crispy-but-pliably-floppy based pizza with a good selection of toppings accompained by a vibrantly sharp sweet tomato sauce and rippably chewable cheese. If you are nearby, it is worth hitting up. But be warned, seating in the place is very limited and the options immediately outside it are laughably inappropriate for sloppy slice comsumption. Stand, eat, move on.
DOWNTOWN
Downtown has always been wonderful for cheaper minimum bet tables and super fast waitress service at them. But recently some multi-millionaire has poured a fuck ton of dollar into the area, turning it into a kind of polished, Stepford Wives' proto-Williamsburg. Artisanal doughnut shops and markets aside, the top of Fremont Street has both dive bars and hip drinking spots lining both sides of the road - We hit up the Griffin (a dive bar in what looks like a monastry wine cellar) and had a wonderful time drinking slightly overpriced Olympias.
And you can't miss the Container Park, a shopping and dining center made of (you guessed it) shipping containers, with a kids' park in the middle that hosts open air movie nights and has a giant fire-breathing metallic praying mantis procured from Burning Man at it's entrance. It makes Boxpark look like the dodgy extension with the leaky corrugated PVC roof that you had on your first student house. And in it are some super solid places to eat.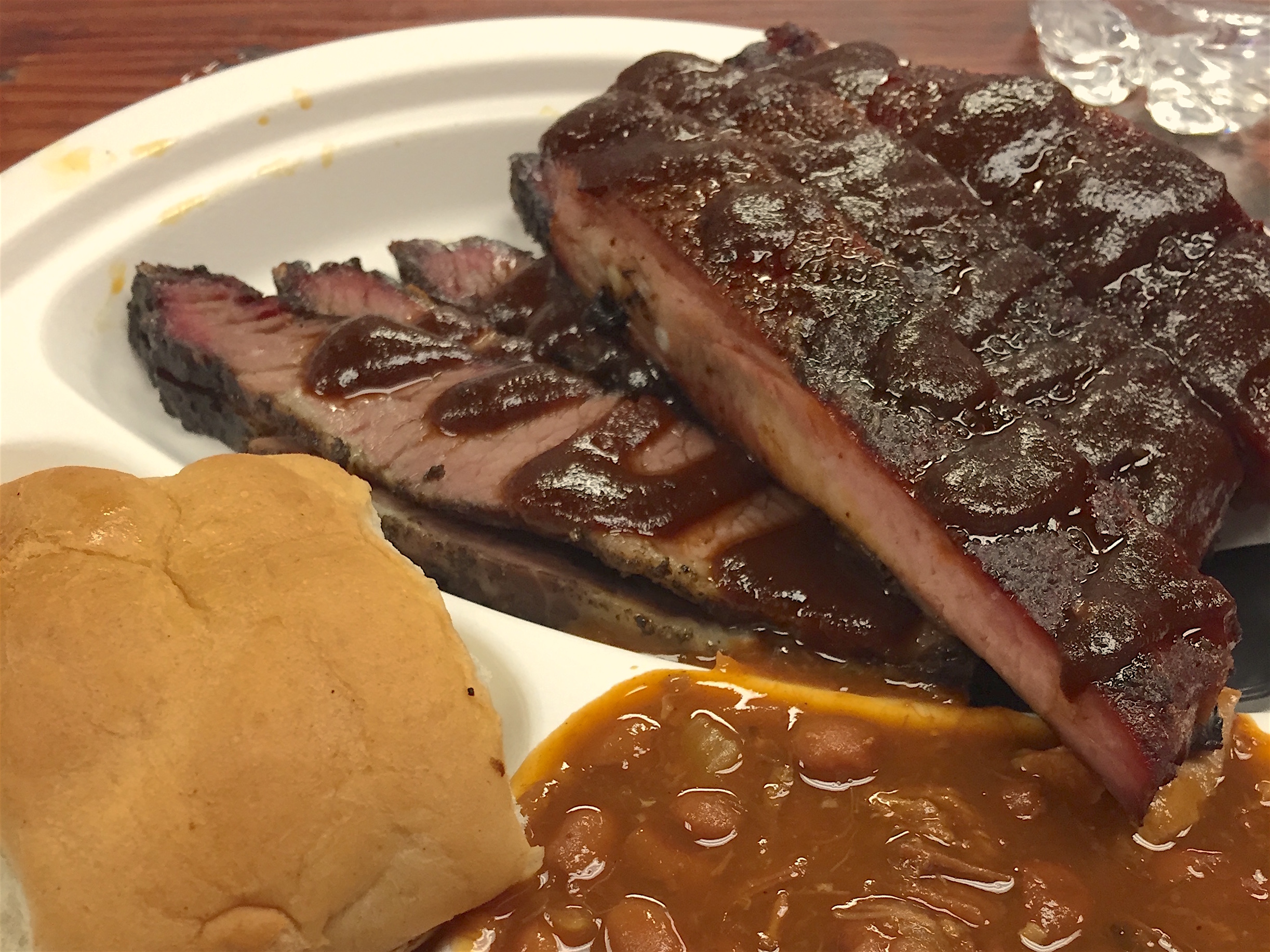 Pinches Tacos dishes up some simple but effective Mexican food - their pescado taco interfaces super fresh crisply battered fish with an equally fresh crunchy slaw; well marinated asada is rich, soft hunks of beef with fresh onion chunks, coriander and a punchy green tomatillo salsa throwing just enough heat; and the best of the trio, the slow broiled Al Pastor, a flavour-packed soft saucy spicy pork with a pert salsa - all in supple, chewy, and freshly made tortillas. Decent.
Big Ern's have turned a couple of containers into a proper unassuming little barbecue shack, complete with wooden fixins and a dude with a deep, booming Southern drawl delivering the food. Now, the more barbecue you eat in the UK (and the longer it has been since you've had it in the States), the more you believe that what you are eating is true American barbecue. A nanosecond after the Big Ern's brisket had brushed our tongues we realised that such thinking is fucking delusional - it was moist, pull-apart soft with a great flavour and rich, intense bark. It kicked the shit out of pretty much most of the stuff you get in London. And it wasn't even Ern's best offering, the meat on the ribs clung on just enough before succumbing to little coaxing and was bang on, with great bark and a super smokey sweetness. Makes us think we should save all our barbecue eating for future holidays.